What Is Independent Living?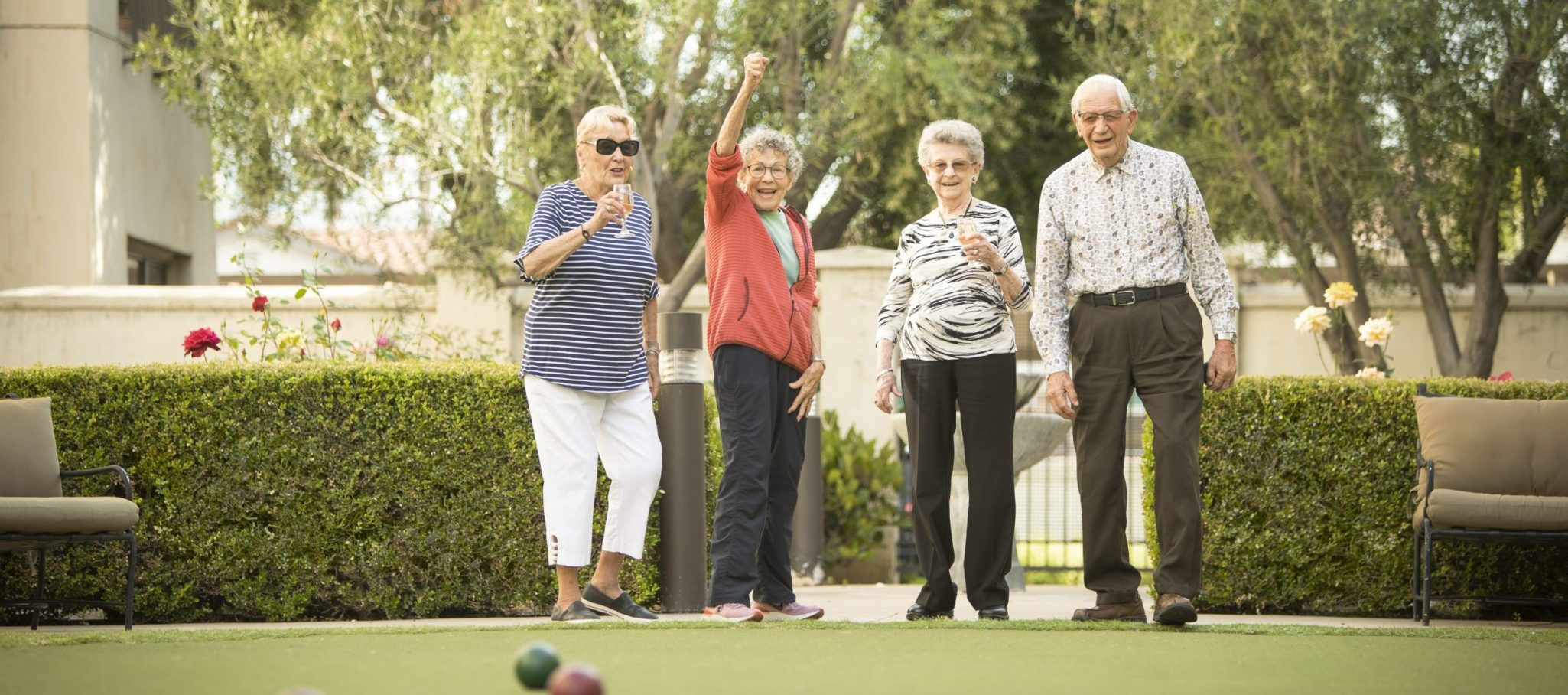 When you imagine your ideal retirement, you probably dream about indulging in your hobbies and relaxing. You may picture yourself making new friendships, perfecting your golf game, or traveling the world. You might even envision handing off all your daily chores, like cooking and lawn mowing. These scenarios may seem like an impossible fantasy, but joining a senior independent living community can make them a reality. 
What is independent living? This term refers to communities designed for active adults over 55 who don't require daily medical treatment or assistance with personal care. Independent living senior communities are often well-manicured neighborhoods with privately owned or rented houses. Other residences resemble beautiful resorts with upscale apartments or condos. 
Independent living offers a broad range of amenities and services so that you can make the most of your retirement. For example, many communities have art classes, swimming pools, and social events. They also typically have convenient on-site services, like doctor's offices, pharmacies, and restaurants. These services enhance your health and social life and give you more time to focus on your passions. 
What Services Do Independent Living Communities Offer?
Independent living communities provide a variety of services specifically designed to promote physical, mental, and spiritual well-being. Convenient on-site amenities like restaurants and spas give seniors the freedom to spend more time focusing on the things that matter most, like spending time with new friends and enjoying hobbies. 
A broad range of engaging and purposeful experiences enables seniors to have happier, healthier, and more fulfilling lives. The amenities offered by specific communities vary, but here are a few common services that will help you get the most out of your retirement and enjoy your ideal lifestyle. Many communities cater to seniors with specific goals, interests, and needs, so you're sure to find one that fits your current or planned lifestyle perfectly.
Maintenance-Free Living 
Routine chores like cooking, shoveling snow, and vacuuming can be time-consuming and physically exhausting. An independent living community handles your cooking, housecleaning, laundry, and landscaping so you can spend more time enjoying life. These services allow you to reap the benefits of beautiful green spaces and a sparkling clean home without sacrificing your energy and time. 
Self-Care 
Independent living residents frequently get exclusive access to on-site beauty salons, barbershops, and spas. Treat yourself with a manicure or pedicure, or maintain your signature style with regular haircuts. You'll save time and money by eliminating travel and can relax and enjoy regular pampering. 
Diverse Dining Choices
Many communities have a range of dining services and restaurants that provide fresh and healthy meals for seniors. Revolving menus and made-to-order options allow you to enjoy the dishes you love without the hassle of cooking and washing dishes. You can consult with a team of culinary experts to ensure that every meal meets your dietary needs and preferences. Or cook at home in your private kitchen. 
These convenient services transform meals into a relaxing social experience instead of a daily chore. Gather with your friends for a delicious lunch made with locally-grown ingredients, enjoy a romantic dinner with your partner, or have meals delivered to your home on busy days. 
Recreational and Social Activities
Recreational and social activities allow seniors to flourish mentally and physically and make new friends with similar interests. Enriching social opportunities also provide fulfillment and new ways to engage with your community. For instance, you could debate the latest bestseller at a book club, volunteer at a local food bank, and care for your spiritual wellness by attending communal meditation sessions. 
Most independent living communities provide regular fitness classes taught by expert instructors. Start the week by practicing your dance moves in Zumba class, hit the community pool for water aerobics on Wednesday, and work on your backhand technique with a private tennis lesson on Friday. Other popular options include cycling, hiking clubs, Tai Chi, and yoga. 
Assisted Living vs. Independent Living
Many senior living communities offer both independent and assisted living services. Independent living is ideal for seniors who want to enhance their retirement but don't need routine assistance from skilled caregivers. This option offers all the amenities of a high-end resort with none of the hassle of homeownership. Residents free up their schedules by having staff handle household chores like cooking, laundry, and raking leaves. 
Independent living communities also offer many inclusive opportunities that promote emotional, physical, and social health, like community game nights and gardening clubs. These social opportunities give residents the opportunity to focus on their interests and build meaningful connections with their fellow residents. 
So what is assisted living? Assisted living communities offer the same benefits as independent living but also include services for older adults who need help with everyday activities due to health issues and other concerns. Seniors can request various services to meet their medical and personal care needs. For example, staff may help a resident bathe, take medications, schedule appointments, and perform occupational therapy exercises. 
Assisted living residents may have more complex needs and frequently require one-on-one attention from staff, but residents of both communities live in comfortable and private homes and enjoy the same amenities, offerings, and high-quality services.
What To Look For in an Independent Living Community
Choosing a retirement community can be an exciting but overwhelming process. As you tour luxurious independent living communities or scroll through their websites, you may wonder how you can decide between so many appealing options.
1. Accreditation 
You have high standards for your retirement, and you want to ensure that your new home meets your expectations. Choosing an accredited independent living community is one of the most effective ways to ensure you receive excellent care and services. 
The Commission on Accreditation of Rehabilitation Facilities (CARF) evaluates senior living communities based on over 1,500 strict quality standards. Organizations must pass CARF's rigorous assessment to receive accreditation. If you select a CARF-accredited independent living community, you can feel confident that you'll receive top-notch services and amenities. 
2. Value  
A senior living community can offer much more value than living at home. You can enjoy all-inclusive access to a wide selection of amenities, like on-site dining, art classes, and landscaping. If you live independently, you'll likely have to pay for these services separately, and the costs can add up quickly. 
You can fill out SRG's simple value worksheet for each community you're considering to determine which offers the most value. 
3. Culture 
It's essential to pick an independent living community where you fit in and feel welcomed. Researching available amenities and the community event calendar can provide insight into a community's culture. For example, an avid outdoors lover will likely find people with similar interests in a community with weekly hikes or fishing trips. You can also ask to speak with current residents to learn about their experiences or attend a resident event, such as an aerobics class or cooking demonstration. A firsthand look into the community's social scene can also help you discern how welcoming the residents are to newcomers.  
When To Consider an Independent Living Community
If independent living sounds like the ideal fit, you may wonder when you should make the big move. Some older adults start making plans as soon as they reach the minimum age requirement, but others worry about transitioning too early. 
Here are three signs that it's time to consider an independent living community: 
1. You're Ready To Enjoy Your Retirement Fully 
Independent living provides countless opportunities for enrichment, relaxation, and socialization. You can access all these benefits in one convenient location, which you can't do if you stay in your home. If you're eager to make friends or learn new hobbies, now is the perfect time to enjoy the perks of independent living. 
2. You're Tired of Chores and Home Repairs 
Many seniors feel bored and stressed by routine chores and other "adulting" tasks. If you're not careful, your valuable free time can quickly get taken up by mundane tasks like dusting and watering plants. If you're ready to have someone else take over your home's upkeep, it may be time to move to independent maintenance-free living. 
3. You're Active and Healthy
Many older adults choose to join an independent living community while they're still physically fit and healthy. Active seniors can take advantage of everything their new home offers, like fitness classes, golfing, volunteering, painting, and lifelong learning seminars. Few people feel like they made the decision to start independent living too early, but many regret that they didn't maximize their retirement sooner. 
Plus, many communities have both independent and assisted living services, so you can easily upgrade to more care if and when you need it without moving to a new location. 
What if You Need More Care in the Future? 
Seniors often have different needs and priorities as they age. You could experience unexpected health changes and require additional help with routine personal care tasks, such as taking medication and traveling to doctors' appointments. Or you may decide to hand off more tasks to skilled caregivers as your priorities evolve. For example, you might initially enjoy caring for your yard but choose to add landscaping services so you can travel more frequently.
Choosing an independent living community with continuing care gives you the flexibility to age comfortably. Many senior living communities have independent living, assisted living, and even memory care in one location. Multiple levels of care enable you to easily access new services if and when you need them. For instance, you could receive occupational therapy after surgery or have a caregiver stop by to ensure you take a new daily medication. You won't need to worry about moving to a new community if you need more care. 
Enjoy More Freedom With Maintenance-Free Independent Living 
Independent living offers many benefits for active seniors who want the best possible retirement. You can take advantage of upscale amenities like a community pool and on-site healthcare providers without losing the freedom and privacy you currently enjoy. Plus, you can easily add new services if you require a higher level of care in the future. 
SRG Senior Living has provided stellar care for over 35 years. Our CARF-accredited communities feature many convenient amenities to improve your life and countless recreational and social activities. Contact us to learn more about our independent living communities. 
Not sure if independent living is the right fit for your retirement plans? Our guide to assisted living will help you explore other popular senior living options.