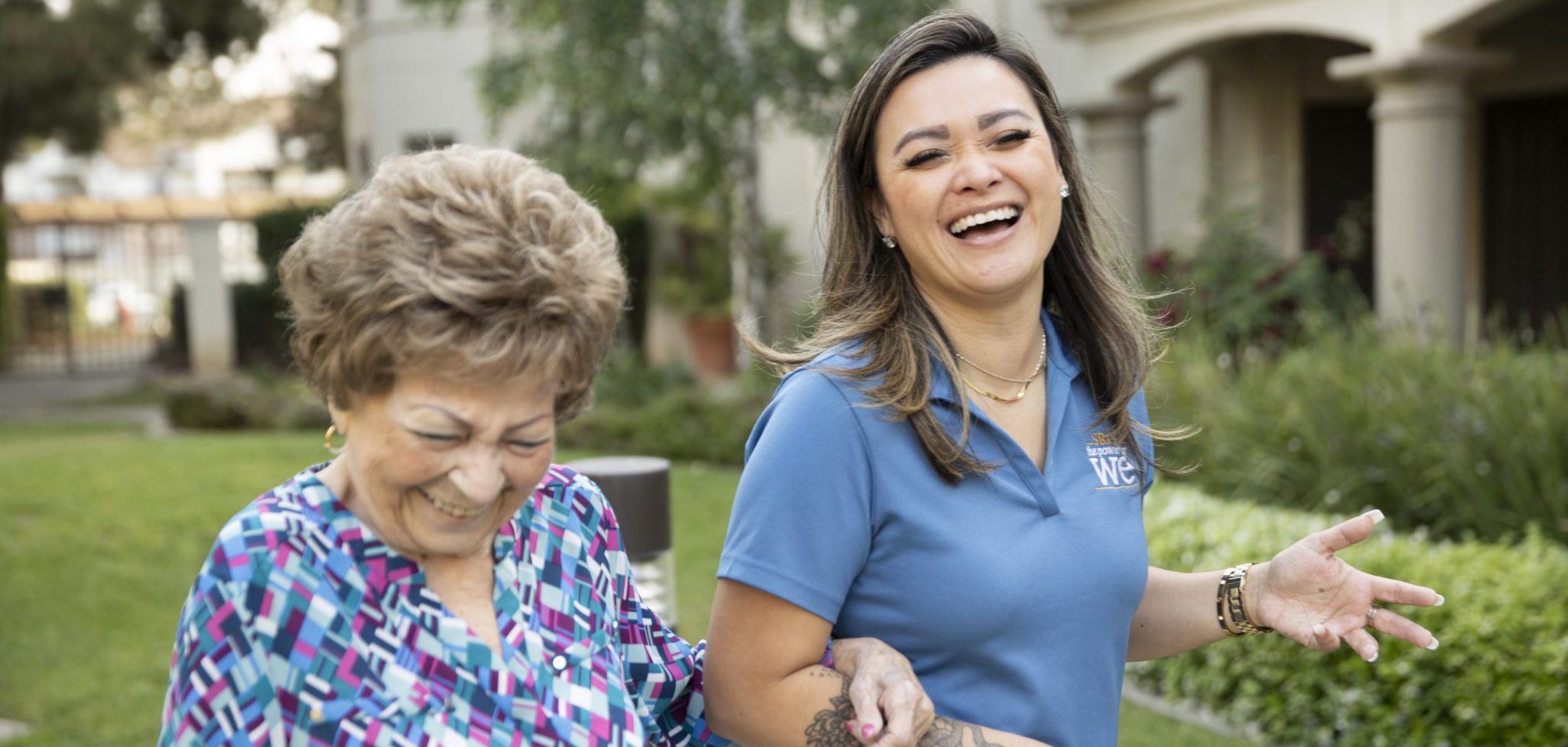 Assisted living refers to retirement communities for older adults who want to live independently but may need additional help with daily tasks. Although some residents may have medical conditions requiring assistance with mobility or medication management, many are seniors who just need a little extra help with routine tasks. An assisted living community can offer a personalized home environment for older adults with assistance in carrying out basic daily routines like eating, dressing, and bathing.
But the highlight of these communities is access to shared common spaces. Some properties may offer residents amenities like restaurants, coffee shops, clubhouses, libraries, cinemas, pools, gardens, and more. Some assisted living communities are small, while some offer a larger, campus-style setting.
In most assisted living communities, the staff is available 24/7 to help ensure residents stay comfortable, active, engaged, and healthy. The services and amenities provided by assisted living communities are tailored to support residents' physical health and mental and social engagement.
What Services Does Assisted Living Provide?
Assisted living services will vary but should foster maintenance-free living, socialization opportunities, wellness activities, and supportive services. Each program is customized to individual needs, so you should consider what services you need to stay healthy, achieve personal goals, and meet lifestyle expectations.
Some commonly offered assisted living services include:
Dining Choices 
Seniors in assisted living have more dining options than ever. Communities often feature a variety of restaurant-style eateries, take-out options, and in-room delivery. Dishes are made-to-order by knowledgeable chefs who offer healthy choices and ever-evolving, curated menus.
Personalized Care
Assisted living makes it easy to get the care you need to stay as active and healthy as possible. Staff will create personalized care plans to manage your needs and help you achieve your goals. 
Maintenance-Free Living
Life in an assisted living community means more free time to explore your hobbies and less time doing mundane housework. Staff will take out the trash, ensure you have clean laundry and linens, and keep your home clean and organized. 
Wellness Opportunities
Assisted living communities offer various activities to help keep residents happy and engaged. Swimming pools, fitness centers, or morning yoga classes encourage physical health and wellness. Communities with spaces like clubhouses, continuing education opportunities, or places of worship enhance residents' mental, social, and spiritual lives.
Transportation
Getting around should be easy in assisted living communities. Staff will ensure you have access to shopping centers, restaurants, medical appointments, and other outings.
Safety Features
Many assisted living communities have coded entries, advanced security systems, and dedicated security guards to keep residents and visitors safe.
What Should I Look for in an Assisted Living Community?
Here are some helpful things to ask about and look out for during your tour.
Accreditation 
Accreditation is one of the most critical distinctions when choosing an assisted living community. 
The Commission on Accreditation of Rehabilitation Facilities (CARF) is an accreditation body for retirement communities. By auditing and rigorously reviewing their facilities, staff, services, and amenities, CARF-accredited assisted living communities go above and beyond to ensure their living spaces, management practices, and services meet high-quality standards.
Enrichment
The high quality of life offered by assisted living allows seniors to thrive. Residents are assessed so that personalized plans can be developed and enacted to ensure they get support while living independently and engaging socially.
On-Site Amenities
Your care needs and ideal lifestyle will influence what amenities are important to you. Determine which amenities are must-haves and which ones you can live without. For example, is specialized dining offered with menus to accommodate any lifestyle choice? Assisted living communities may offer game rooms, crafting stations, gardening, beauty salons, movie theaters, and more.
Location
As with any home, location matters, so look for a community that's close to the people and places that are important to you. Communities in safe neighborhoods with easy access to medical providers, public transportation, parks or entertainment venues, and loved ones can make your life much easier and enjoyable.
Quality
The cost and quality of assisted living can vary greatly, so consider your budget, preferred lifestyle, individual care requirements, and desired amenities. All of your utilities are included, as are most meals. Your transportation, on-site entertainment, and emergency access are also all included.
Assisted Living vs. Nursing Home
Both nursing homes and assisted living communities serve older adults, offering meals and support with their daily routines. Staff can help residents with things like taking their medication and maintaining hygiene.
Because of their similarities, some people might confuse nursing homes and assisted living communities, but they have several key differences.
Nursing home residents require more medical attention and care than seniors in assisted living. It's common for nursing home residents to require around-the-clock medical supervision, whereas assisted living residents may have minor health concerns but still maintain a degree of independence.
Assisted living communities typically have more space, amenities, and activities than nursing homes. Assisted living residents live in their own residences, whereas nursing home residents may have roommates or only a single room to themselves. Seniors in assisted living can fully thrive as individuals living a lifestyle of choice and freedom. The amount of supportive care is as requested.
Cost is another difference. Nursing homes are usually more expensive than assisted living communities because the medical care and monitoring residents require are much more intensive. Assisted living is very much not a hospital-like setting.
Assisted Living vs. Independent Living
Assisted living and independent living both offer engaging social opportunities, diverse dining options, and various on-site amenities for residents. Both types of communities have safe and comfortable living spaces for residents to live their best lives.
In contrast to assisted living, residents in independent living communities don't need help with their daily activities. Most seniors in independent living communities choose to live there for an improved lifestyle rather than because they need extra care.
Independent living communities function more like resorts for seniors who would rather spend time meeting friends and enjoying recreational activities than doing household chores. Residents live in private residences and can access pools, tennis courts, restaurants, and other community spaces.
Many assisted living communities are designed to be more compact and easier to navigate for residents with mobility issues.
Assisted living can also be a little more expensive than independent living because of the level of care involved. Assisted living communities need more staff to help residents with their daily tasks. 
When Is the Right Time for Assisted Living? 
There isn't always an obvious right time for most things in life, and moving to assisted living is no exception. There are many factors to consider before you decide whether to move into an assisted living community.
If you're wondering whether assisted living is right for you, take a moment to read through the following questions and answer them honestly. Your responses can help you determine if you're ready to transition to an assisted living community or want to pursue other living arrangements. 
Do you often forget to take your medication? 
It is crucial to take your medications as prescribed. It's also important to take medications that are not expired or tampered with. Assisted living staff can help you with your medication management.
Are you eating healthy meals?
It's normal for your appetite to change as you age, but your body still needs proper nutrition to function well and keep you feeling good. 
Do you have trouble maintaining your hygiene?
Maintaining your appearance and looking your best can give you confidence, and good hygiene helps you stay healthy.
Is it financially beneficial?
When comparing the individual expenses of independent versus assisted living, many people find it's more financially sound to move into an assisted living community. Many people decide that assisted living costs are well worth the services, benefits, and lifestyle amenities that cannot be easily replicated when living alone.
Has your home become unsafe?
You might injure yourself if you slip on icy stairs or regularly forget to turn the hot burner off on the stove. 
Is it challenging to keep up with the housework?
Dishes piling up in the sink or cobwebs in the corners might be signs that keeping your living space as clean and comfortable as it was in the past is becoming more challenging. 
Do you still participate in activities or hobbies?
Participating in physical activities and hobbies can help prevent physical and cognitive decline. 
Do you feel lonely?
Connecting with friends and family is proven to boost your mental health and give your life greater meaning and purpose. Living alone without access to engaging social opportunities has been shown to be the biggest contributor to declining health in older adults.
Assisted Living With SRG Senior Living
Choosing when to move into a retirement community doesn't have to be intimidating or scary. Community living can expand your horizons, enhance your quality of life, and give you more freedom to make choices that work for you.
Personalized care, engaging activities, opportunities to build relationships, and diverse dining options are just the beginning of what assisted living can offer. Each community has different amenities and services that fit your budget and help you realize your ideal lifestyle.
Take some time to consider what benefits an assisted living community can offer you. If you'd like to learn more, SRG Senior Living can give you expert tips and resources to help you decide.
Contact SRG Senior Living today to start your journey toward a rich and fulfilling life.