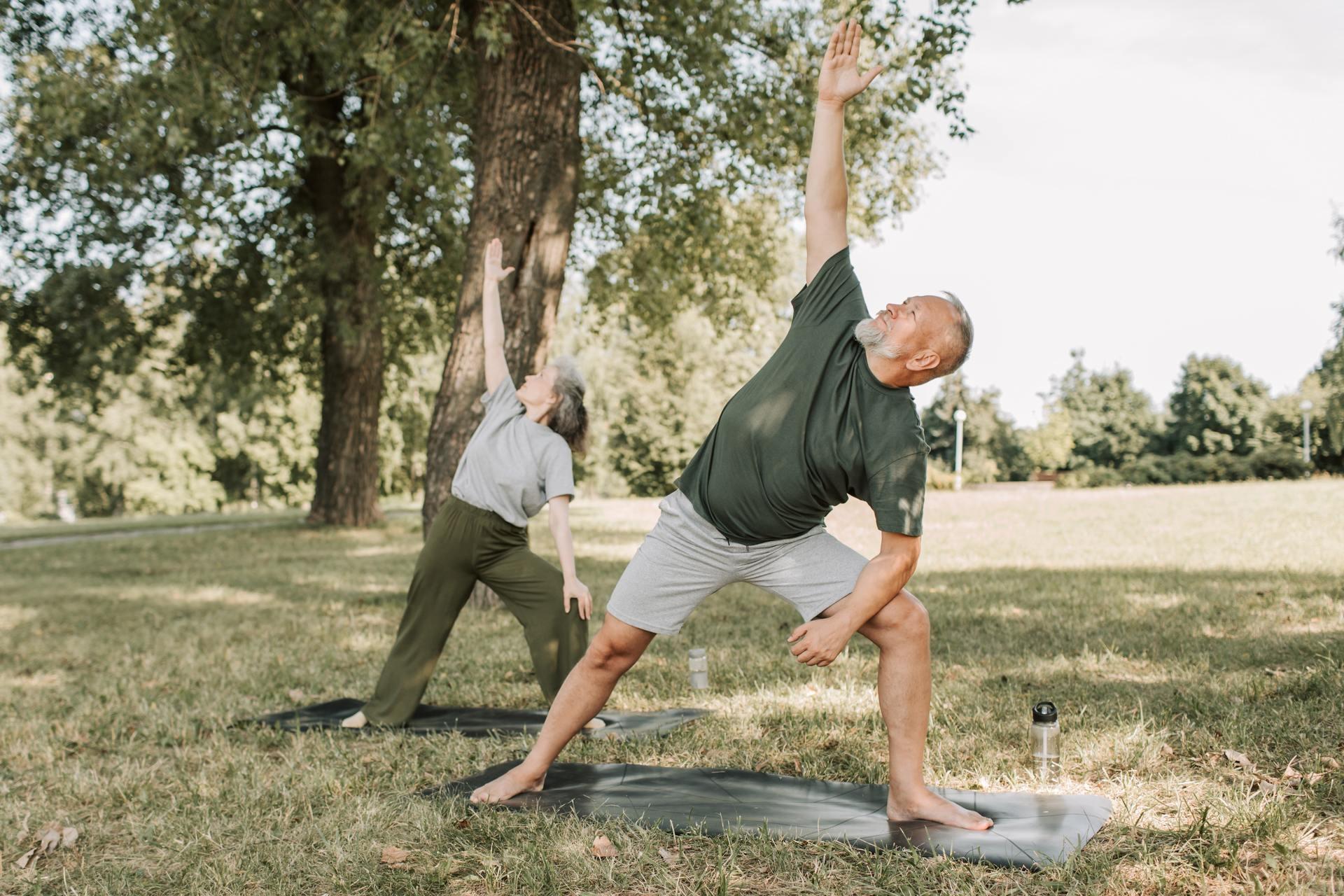 Everyone has a unique vision of their perfect retirement. You may want to spend your senior years traveling the world or mastering the art of cooking. Or perhaps you daydream about making new friends and volunteering. No matter your goals, active aging can help you achieve your dreams and make the most of your retirement. 
What is active aging? The World Health Organization defines this concept as "the process of optimizing opportunities for health, participation, and security in order to enhance quality of life as people age." Active aging goes beyond physical exercise. This framework promotes civic involvement, emotional health, independence, social engagement, and spiritual well-being. 
Active aging enables seniors to have happier and more purposeful lives. Older adults can stay connected to their communities by participating in meaningful activities like going to religious services and volunteering at a local food bank. Many seniors also invest time in their hobbies and attend social events. 
Additionally, staying active helps seniors stay fit, healthy, and mentally sharp as they age. Recreational and social activities exercise the body and the mind, promoting overall health and well-being. This blog explores the many benefits of staying active and the role of active aging communities. 
Benefits of Active Aging
Active aging has numerous benefits for older adults. This approach can improve every aspect of your life.
Physical Benefits of Active Aging
Regular exercise is an integral part of active aging. Seniors can participate in a broad range of physical activities, such as biking, hiking, and Tai Chi. Recreational activities like going to the museum and playing games with grandchildren also keep older adults moving. 
Because active aging prioritizes exercise and movement, it offers many physical benefits, such as: 
Better quality of sleep: 

Many seniors have difficulty falling and staying asleep. Staying physically active can 

reduce sleep disturbances

and improve your overall sleep quality, so you feel more energized during the day. 

Decreased risk of mortality: 

Active aging can help you have a longer and healthier life. According to a 

2022 study

, older adults who engage in 2.5 to 5 hours of moderate-intensity exercise or 1.25 to 2.5 hours of vigorous-intensity exercise weekly had a 31% lower risk of mortality than people who exercise less frequently. 

Reduced number of falls:

 

Research

shows that regular exercise reduces the rate of falls by 25%. 
Mental Benefits of Active Aging
Active aging also provides many advantages for mental health, such as: 
Decreased risk of depression: 

Many seniors experience 

depression

as they get older, but this isn't an inevitable part of aging. Active aging positively impacts mental health and reduces the risk of depression. 

Improved cognitive function: 

According to a 

2021 study

, seniors who engage in a variety of meaningful daily activities experience less cognitive decline as they age. 

Reduced anxiety: 

Research shows that seniors who live an active lifestyle have 

fewer anxiety symptoms

. 
Social Benefits of Active Aging
You can improve your social health by embracing active aging. Social benefits include: 
Increased sense of belonging: 

Active living enables seniors to build strong relationships with others, making them feel like they belong to a community.

Reduced social isolation: 

Engaging in a broad range of fulfilling activities helps older adults stay connected with their peers and develop support networks. 
Emotional Benefits of Active Aging
Active aging promotes emotional well-being in many ways, such as: 
Greater resilience: 

Older adults who participate in meaningful activities 

cope better

with challenging situations. 

Improved mood: 

Seniors with active lifestyles generally feel 

happier

and more fulfilled. 
Examples of Active Aging Activities
There's no one-size-fits-all approach to active aging. You can prioritize recreational and social activities that align with your goals and interests. It's also a good idea to get out of your comfort zone by regularly trying new classes, hobbies, and social events. You might be pleasantly surprised to discover a new passion or make a friend you wouldn't have otherwise met.  
Some of the most common active aging activities include: 
Cooking demonstrations

Creative activities, such as art classes and creative writing groups  

Dance classes 

Social dinners and gatherings

Fitness classes, including "aquarobics," Pilates, Tai Chi, and yoga 

Genealogy research 

Hiking, kayaking, birdwatching, and other outdoor activities 

Joining a book or gardening club

Lifelong learning courses  

Meditating independently or in a group 

Outings to the aquarium, art museum, orchestra, or zoo 

Religious services 

Special events like festivals, car shows, and music concerts 

Sports, such as golf and tennis 

Volunteering with local community organizations, such as animal shelters, schools, and libraries 

Wine tasting 

Community board game and movie nights 
Choosing diverse activities promotes overall well-being by engaging your body, mind, and soul in different ways. For example, you might break a sweat at your morning Pilates class, spend the afternoon painting, and catch the latest blockbuster film with friends. 
Active Aging Communities
Active aging communities are designed for older adults who want to spend their retirement engaged in energizing and enriching activities. These communities take a holistic approach to aging by helping seniors thrive creatively, emotionally, mentally, physically, and socially. They recognize that each resident has a unique background and interests, and they help seniors find personal fulfillment. 
These communities offer varying levels of care, depending on the needs of their residents. Independent living communities have individual residences for active seniors who want to enjoy access to amenities but don't need regular medical assistance. Assisted living communities offer all the perks of independent living but also provide additional support for seniors who need help with everyday tasks. 
All types of active living communities have a variety of amenities to support busy and fun-filled lifestyles. Popular features include: 
Leisure and social events: 

There's always something going on in an active living community. In fact, many communities organize so many events that you can effortlessly fill your entire calendar. For example, you could sample rosé at a weekly wine-tasting event, discuss classic literature at a book club, and show off your skills at a community golf tournament. 

Maintenance-free living: 

Active living communities eliminate the hassle of chores and home maintenance. Staff handle routine tasks like cooking, laundry, raking leaves, and washing windows. These services let you dedicate your energy and time to your hobbies and social life. 

On-site dining: 

Many communities have on-site restaurants led by executive chefs and nutrition experts. You can savor a constantly-evolving selection of delicious and healthy meals — without the hassle of cooking and washing dishes. These restaurants are social hubs where you can casually interact with other residents. 

Workout facilities: 

Stay in shape by attending fitness classes or private training sessions led by expert instructors. You can also hit the gym or swimming pool for an independent workout.

 
You can choose the perfect active living community by researching communities that offer the amenities and services you need. Communities that have received accreditation from the Commission on Accreditation of Rehabilitation Facilities have demonstrated that they provide high-quality services, amenities, and care.
Getting Started with Active Aging
All older adults can improve their health and happiness by embracing active aging. Here are a few tips for staying active as you get older: 
Ask a friend to attend new activities with you 

Eat nutritious foods to stay energized and healthy 

Engage in a variety of physical exercises to avoid boredom

Find a creative outlet

Get a pet, like a dog you can walk

Prioritize sleep 

Reduce stress
If this all sounds a bit overwhelming, don't worry. You can get started by developing a simple active aging plan that includes these elements: 
Physical Activities:

 Consider which types of exercise make you feel the most motivated and look for ways to incorporate them into your daily life. For instance, you could join a biking club or sign up for tennis lessons. Your doctor may also offer personal recommendations based on your health. A person with 

osteoporosis

could benefit from strength training exercises, while someone with 

Dementia

might enjoy daily walks. 

Hobbies:

 Make time to indulge in your favorite hobbies and experiment with new activities. An art class could let you express yourself in new ways, while weekends at the golf course enable you to perfect your skills. 

Social Events:

 Socializing with peers lets you develop a support network and share your interests with like-minded people. 

Volunteering: 

Giving back to your community helps you make friends and may benefit your 

cardiovascular health

.
Of course, active aging isn't always smooth sailing. Some seniors develop health conditions that prevent them from participating in their favorite activities. For instance, a person with cataracts may need to switch from biking to safer activities like walking. Similarly, someone experiencing financial challenges could search for free or low-cost activities. With a bit of creativity and support from your community, you can overcome many obstacles and keep aging actively. 
The National Institute on Aging offers many resources to learn more about active aging. 
Flourish With Active Aging 
Active aging promotes holistic well-being and self-care. Stay happy, healthy, and engaged as you age by participating in meaningful recreational and social activities. 
SRG Senior Living's active living communities offer the amenities and freedom you need to nourish your body, mind, and soul. Find more advice in our Healthy Aging guide, and contact us to discover how we can help you embrace a vibrant and purposeful life.