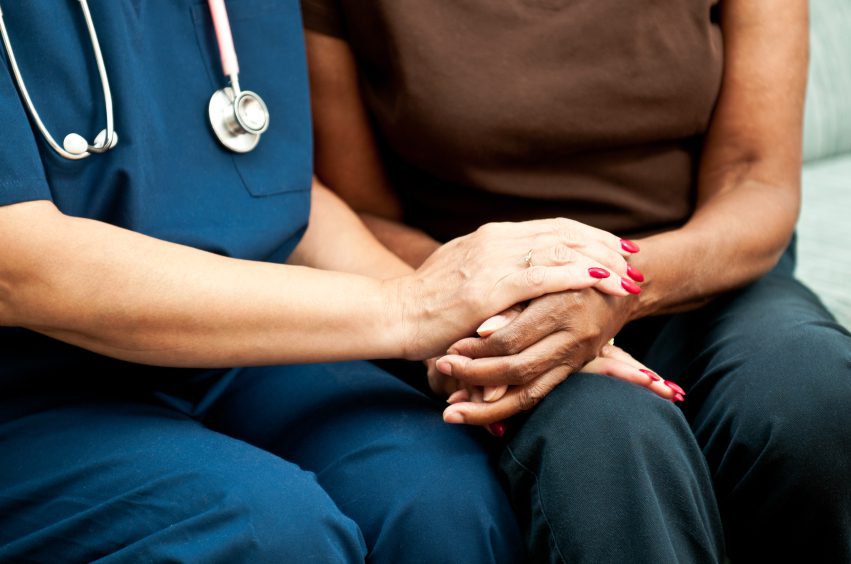 Misconceptions and myths about nursing homes persist in American culture and popular media. Many people picture nursing homes as depressing places with bored and lonely senior residents. In reality, nursing homes allow older adults to flourish, socialize, and receive consistent access to amenities and medical treatment. 
So, what is a nursing home? This type of community is designed for people who need extensive medical care, assistance with chores and personal tasks, and other services. Most nursing homes have registered nurses and nurse aides on hand 24/7 to provide around-the-clock care when necessary. 
Nursing homes are medical settings, not residential environments like retirement communities. Most people who live in nursing homes need permanent assistance or intensive short-term medical care. For example, some seniors become permanent nursing home residents after their health needs change. Others stay for a few months while they recover from an illness or surgery before returning home. 
Senior nursing homes focus on quality health-related services, but that doesn't mean they're not comfortable or welcoming — after all, the word "home" is right in the name. Residents typically live in private apartments, individual rooms, or suites and enjoy access to many enriching amenities. 
What Services Do Nursing Homes Provide?
You may ask, what do nursing homes provide? Nursing homes have a wide range of amenities to promote emotional, mental, physical, and social well-being. The specific services offered vary, but here are a few common services offered by many nursing homes. 
Nutrition Counseling 
A nutritious diet promotes healthy aging and reduces the risk of some health conditions, like heart disease. But seniors' dietary needs and tastes tend to evolve with age. For instance, your doctor may recommend that you reduce your sodium intake or eat more vegetables to maintain your health. On-site nutrition counselors develop custom dietary plans that suit each nursing home resident's changing needs. Assisted and independent living communities also offer nutrition counseling. 
Post-Surgical Support 
Getting surgery is never pleasant, but the right support can help you recover quickly and smoothly. Nursing homes have 24/7 post-surgical assistance from licensed nurses and aides. These professionals perform skilled services like administering intravenous medication and providing wound care. Assisted living communities may offer some of these amenities but don't always provide extensive or specialized recovery services without the additional support of a private caregiver.  
Physical and Occupational Therapy 
Nursing homes frequently provide physical and occupational therapy. These services boost mobility and help seniors maintain or regain the ability to perform everyday tasks. You could play shuffleboard with your therapist to improve your mobility or learn how to knit to strengthen your hands. Retirement communities also often offer these services, so seniors don't have to travel to receive top-notch care. 
Nursing Homes vs Assisted Living
Comparing care options can be confusing and frustrating. Seniors and their families want to select a community that offers the right level of care, but the differences between nursing homes and assisted living aren't always clear. 
These two types of communities have similar but distinct focuses. Like retirement communities, nursing homes prioritize residents' mental and physical health. However, they're unique because they provide a higher acuity of care for people who would benefit from a cozy, hospital-like setting. Their dedicated staff provide medical-related care like bandage changes, breathing treatments, and insulin administration. The amenities offered by these homes tend to revolve around health and wellness, though many communities also coordinate regular social events. 
Assisted living communities are residential settings that allow older adults to enjoy an engaging and maintenance-free lifestyle. Staff handle chores like cleaning, helping with medications, and yard work, so residents can spend their time on the activities and experiences that make them happiest. They also offer a more extensive selection of upscale amenities than nursing homes, such as fitness centers, salons, spas, community pools, and walking tracks. 
Like nursing homes, assisted living communities also have customizable services to help seniors stay healthy and fulfilled. However, their residents don't always need these amenities permanently. For example, residents can request dining services while recovering from surgery, then go back to cooking their own meals or choosing to dine in the onsite restaurant when they are ready and able. 
Nursing Homes vs Skilled Nursing Facilities 
Nursing homes and skilled nursing facilities may sound interchangeable, but they have a few key differences. 
Skilled nursing facilities provide a full spectrum of medical services for people who need constant care and supervision. Residents often arrive at skilled nursing facilities immediately after they leave the hospital for ongoing treatment and therapy. For example, you may need skilled nursing if you have a severe chronic illness or if you're recovering from a major medical procedure. 
Because these communities focus on helping ill and injured people, they typically care for individual residents for extended periods of time. However, many seniors don't need to stay in these communities permanently as nursing home residents do. Instead, skilled nursing often serves as a temporary stepping stone between the hospital and communities that offer lower levels of care.  
Additionally, skilled nursing facilities offer more comprehensive and niche healthcare services than nursing homes. They often have on-site pharmacies, comfortable and secure units for people with memory conditions, and specialized therapy like bladder training. By contrast, nursing homes tend to offer a more limited selection of amenities, such as physical therapy and daily fitness activities. 
What To Look For in a Nursing Home 
As of 2022, the United States is home to over 15,000 certified nursing homes. This number may sound overwhelming if you or your loved one is looking for a new residence, but you can quickly narrow down the list of possibilities by considering these factors: 
Location 
Most seniors prefer to spend their retirement in a specific climate or geographic location. If you're a lifelong resident of a northern state, you may be eager to throw away your winter coat and snow shovel and escape to a warmer climate. Or you may choose to relocate to a port city so you can easily access cruises for older adults. Look for a nursing home that fits your geographic preferences so you can live in a location that makes you feel comfortable and fulfilled. 
Recreational and Social Activities 
Community activities allow older adults to develop meaningful social connections and stay mentally and physically active. Take the time to research each community's event calendar and ask for a list of recreational activities. Prioritize nursing homes with activities that fit your interests. For instance, you may want to expand your knowledge of international cuisines with therapeutic cooking classes or bond with other residents over a friendly game of chess. 
Access To Healthcare
Nursing homes often provide on-site preventative care and routine treatments. Dentists, eye doctors, and primary care physicians may permanently set up shop in a nursing home or drop by to treat residents once or twice a week. You could simply walk down the hallway to get new glasses or pick up a prescription. 
Many seniors also need to travel to external healthcare clinics and hospitals to meet with specialists and receive sophisticated medical treatments. Choosing a nursing home that arranges appointments and offers transportation makes it easier to access the care you need. 
You should also select a nursing home that has received accreditation from the Commission on Accreditation of Rehabilitation Facilities. CARF-accredited communities have passed an extensive vetting process to ensure that they provide high-quality, holistic care for seniors. 
When to Consider a Nursing Home
Choosing the best time to transition to a nursing home can be complicated and stressful. You may feel hesitant to move to a new address or question whether you really need to upgrade the services you receive. 
Here are two major indications that it may be time to make the move to a nursing home. 
You Have New or Growing Care Needs
As your circumstances and needs change, you may realize that your current living situation no longer fits your personal and medical needs. Perhaps your adult child's work schedule has changed, so they can't help you finish strenuous chores anymore. Or maybe you've developed a new health condition that gradually makes it impossible for you to dress and get out of bed independently. 
If you move to a nursing home, dedicated staff can provide the services you need to feel and look your best, now and in the future. However, you should research retirement communities first to ensure that your needs can't be met by another care option. For example, independent living communities eliminate the need for seniors to do laundry and lawn work, while assisted living staff can help residents with personal care tasks as needed. 
You've Experienced Several Falls or Emergencies
Your balance and mobility can decline over time due to health conditions and the natural aging process. As a result, you could experience dangerous falls in your home, especially if you're living in a residence not designed for seniors. Seemingly innocent objects like bathtubs, steep stairs, and throw rugs can become serious threats to your safety. 
Nursing homes have easy-to-navigate layouts created specifically to meet the needs of seniors. For instance, they often have safety features like shower grab bars and bed railings. Staff also provide regular supervision, so you'll receive help more quickly than you would if you chose to age in place.
Receive Top-Notch Healthcare at a Nursing Home
Many people view nursing homes as awful or sad places, but these communities generally provide excellent medical care. You can receive personal services from expert nurses, nursing aides, therapists, and other healthcare professionals. Nursing homes also offer many amenities to promote wellness. You could join a group excursion to a nearby town or strengthen your abdomen in a yoga class. 
However, a nursing home isn't the right choice for everyone. These communities can be expensive and may offer a higher level of care than you desire. Often, assisted living communities provide similar services. 
SRG Senior Living offers a broad range of services, including independent and assisted living. These communities could help you save money and enjoy a greater variety of amenities while also providing basic healthcare. Get in touch today to learn and explore more retirement options with our overview of assisted living.