Luxury senior living in Chandler
Welcome to The Village at Ocotillo
There are compelling reasons Chandler is one of the most sought after places to live in the country. Acres and acres of lakes, a signature golf course and major sports complex are just a few. The Village at Ocotillo spreads out over nearly 10 acres of mature landscaping, with a lifestyle that includes 4-star resort-style amenities, cuisine and service. You'll find walking paths, patios and balconies complementing a charming and enriched version of Southwestern village architecture. But more than anything else, you'll find a place to do your thing, discover new adventures and discover the best of friends. This is next level senior living— and thriving. Take a look.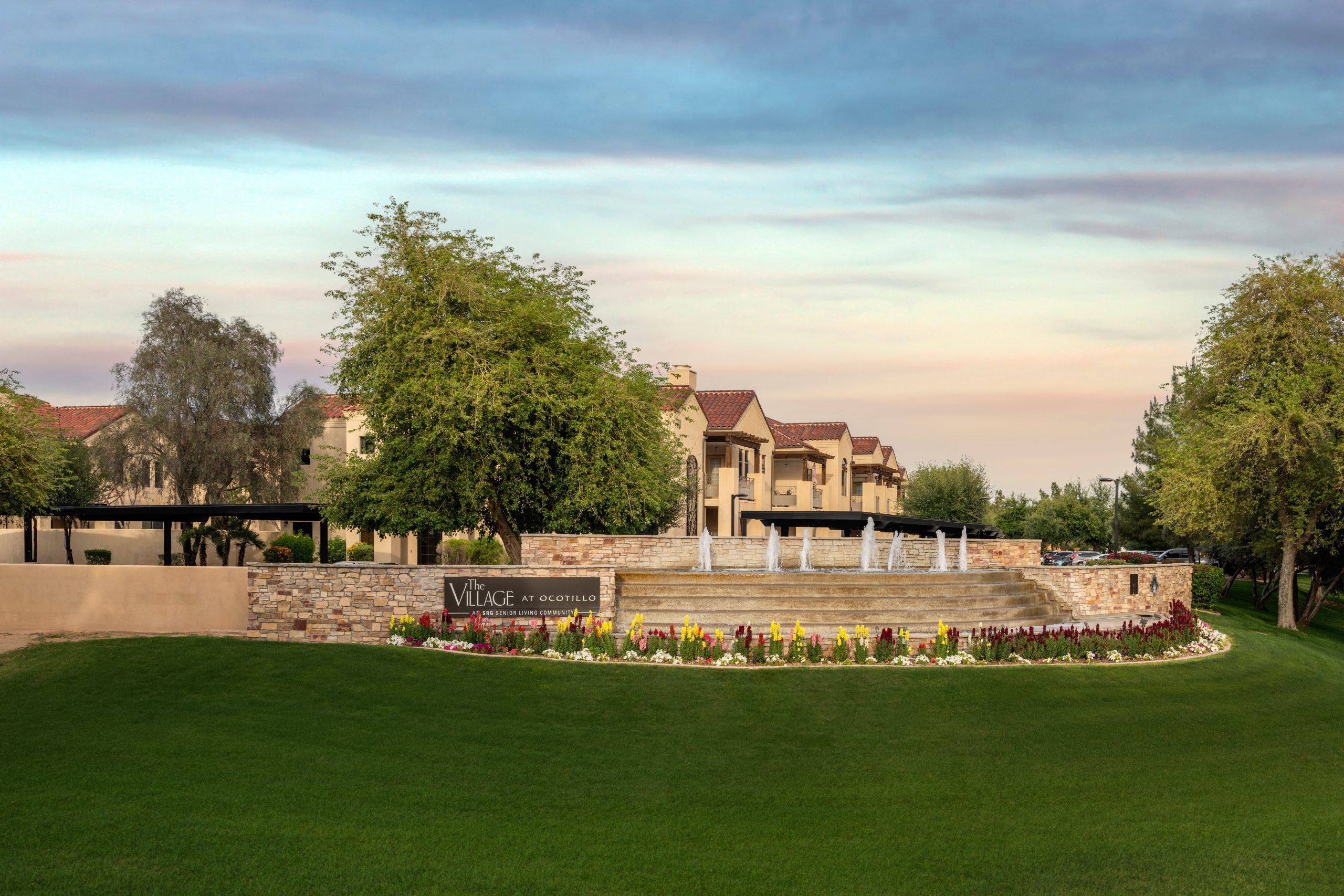 The Village at Ocotillo Lifestyle
See For Yourself
Different Needs, Different Options
From the invigorating freedom of independent living to the caring hand of assisted living, residents of The Village at Ocotillo enjoy an abundance of fulfilling ways to enjoy life.
The CARF accreditation difference
You, and your family
You can learn a lot by visiting a community, but how do you measure quality behind the scenes? We suggest starting with communities that have been thoroughly evaluated and accredited. The Village at Ocotillo is accredited by (CARF), the Commission on Accreditation of Rehabilitation Facilities.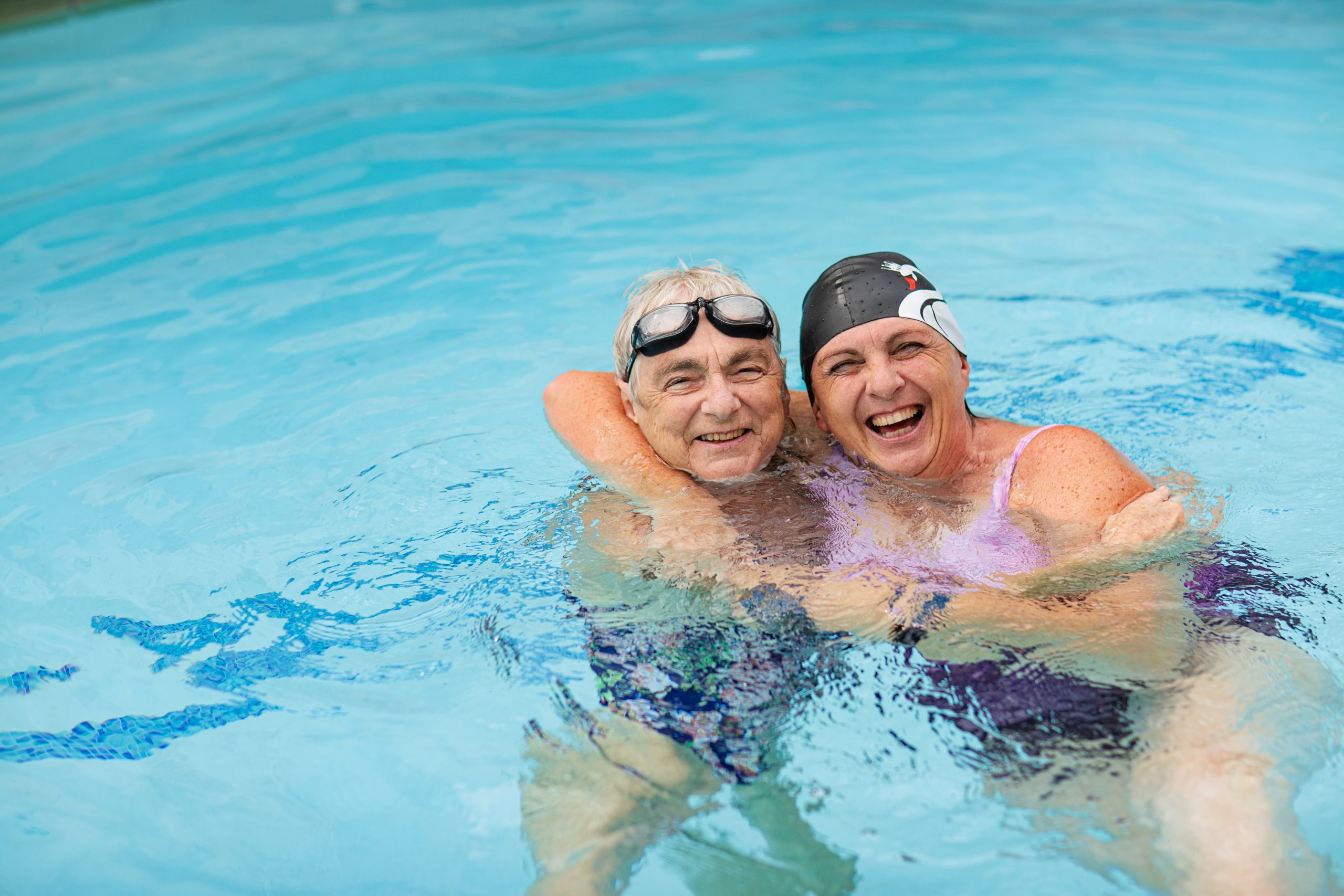 The Village at Ocotillo Lifestyle
Check Out The Community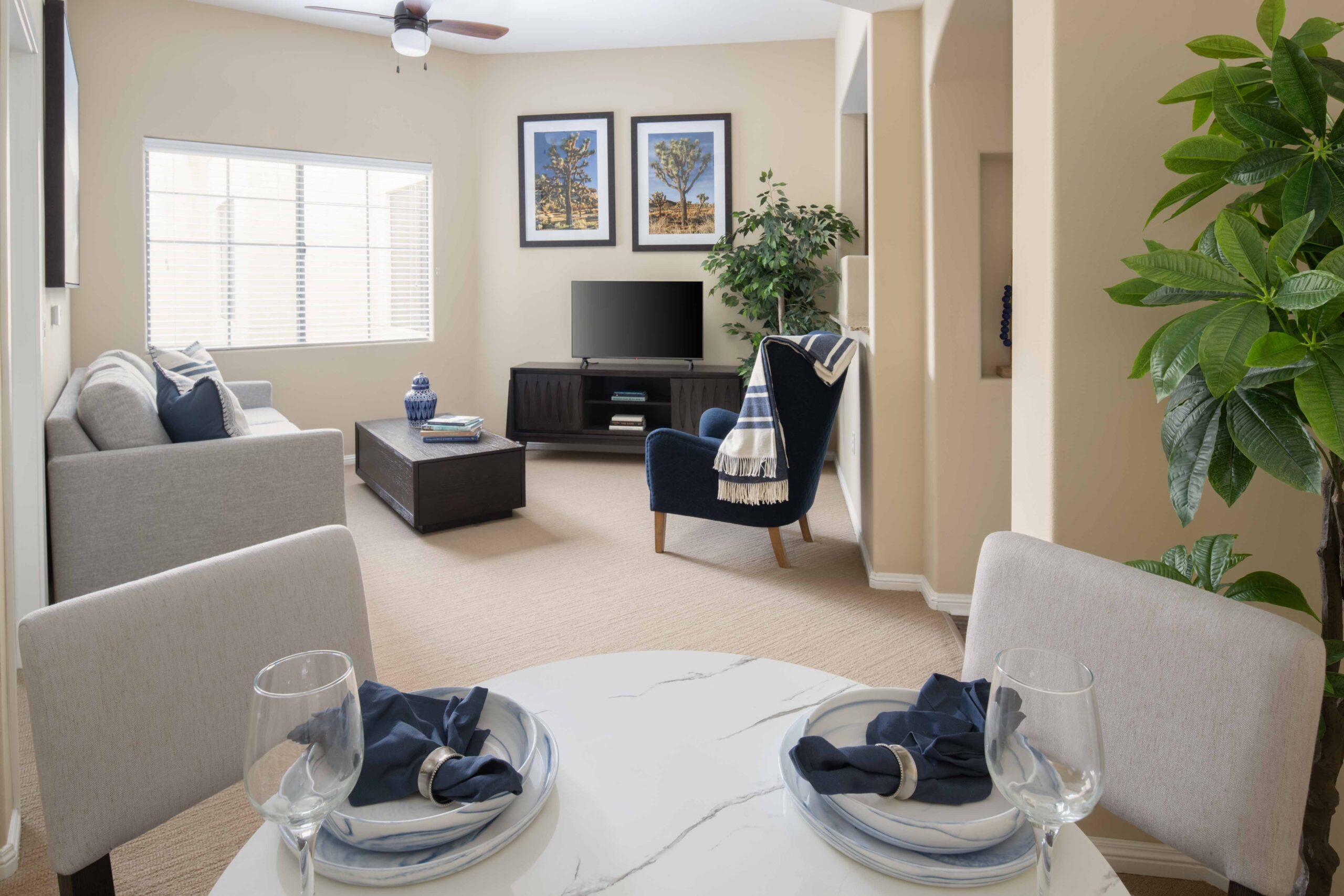 See for Yourself
Browse The Residences
Rated 5 stars

Great staff and community top to bottom! The place to be when there is the need!

Ed Casillas
Google Review

Rated 5 stars

Working with the Village At Ocotillo has been a pleasant experience. We plan to move into the facility in the next wee and the communication and assistance has been excellent.. we already know that it will be a wonderful home for us and we're looking forward to continuing work with the excellent people there

Linda Harter
Birdeye Review

Rated 4 stars

Seem to be an exceptional facility with an outstanding staff

Robert Grieve
Google Review

Rated 5 stars

My dear wife, Barbara, and I recently lived very happily for two months in an assisted-living apartment at The Village of Ocotillo. Until Barbara's collage of serious illnesses (which included acute bowel and lung infections) required another type of facility, we had hoped to stay indefinitely and we would have stayed indefinitely if not for the significant shifts in Barbara's medical condition. Throughout our memorable time at this unconditionally magnificent place, we were treated with the utmost respect, kindness, and generosity. We did not meet so much as a single person who treated us otherwise. The activity, caregiver, food-service, maintenance, and reception staff — mainly, in our experience, Alex, Ashyton, Caroline, Chiffon, Curtis, Emae, Erika, Grace, Lisa, Lou, Mandy, Mary, Mauricio, Megan, Monica, Nancy, Naomi, Orlando, Ovenia, Pam, Peggy, Raymond, Riva, Roxy, and Thelma— did their momentous work happily, efficiently, and charmingly. They made our experience there joyful and constructive. The administrative staff of The Village — mainly, in our experience, Amanda, Codi, Kees, Leah, Sandi, and Tugba (the facility's luminous Executive Director) — have crafted a thoroughly exceptional institution, an institution in which the needs, wishes, and safety of its residents are the foremost priorities. Barbara and I are, and shall always remain, rightly and profoundly grateful to the top-drawer people of The Village for their peerless contributions to the happiness and welfare of the residents they so lovingly and effectively care for. They are a community treasure of the first rank in our view.

Robert Osterhoudt
Google Review

Rated 5 stars

Staff and residents super friendly. Chef Kerry is the best. Appreciate the no pressure approach.

Ursula Bird
Google Review

Rated 5 stars

Friendly and helpful staff. The patio was beautiful. The food was delicious. Yummy desserts. The entertainment had everyone singing along. It was a wonderful experience.

Barbara La Fever
Google Review

Rated 5 stars

The Village At Ocotillo (TVO) Review What makes a good assisted living facility? High level of cleanliness, well maintained premises, ample professional staff, an environment that is homey and safe, with fun filled and engaging activities and utmost respect for privacy. From the perspective of an employee for more than 13 years, I can confidently say that TVO offers all of the aforementioned services. What better proof is there than the fact that most residents who tried our facility for a few months ended up staying long term. Transferring to other states is the main reason for those who didn't stay long, never the quality of the care and services provided. I am proud of TVO and I wouldn't have stayed more than a decade if I know it didn't deliver the best to our residents! – Arnold M.

rnerd125
Google Review

Rated 5 stars

I am/was a resident of this facility I'm at The Village at Ocotillo. It's very good. The food is good. The caregivers are very good. There's a lot of things to do. They have a lot of events going on. They do a lot of them just every day. They have chair volleyball. There's a really good exercise program and there's a bible study. They're doing a new paint job and they're putting new carpeting in, but they haven't started that yet. The place is very nice.

Lavonne
Caring Review

Rated 5 stars

Excellent . Hospitality , food, music and tour

Ruth Tanlim
Birdeye Review

Rated 5 stars

Very professional, considerate and your staff listened to what i was looking for and concerns/needs.

Robert Casillas
Birdeye Review
Read more reviews and share your experience!