How To Choose a Retirement Community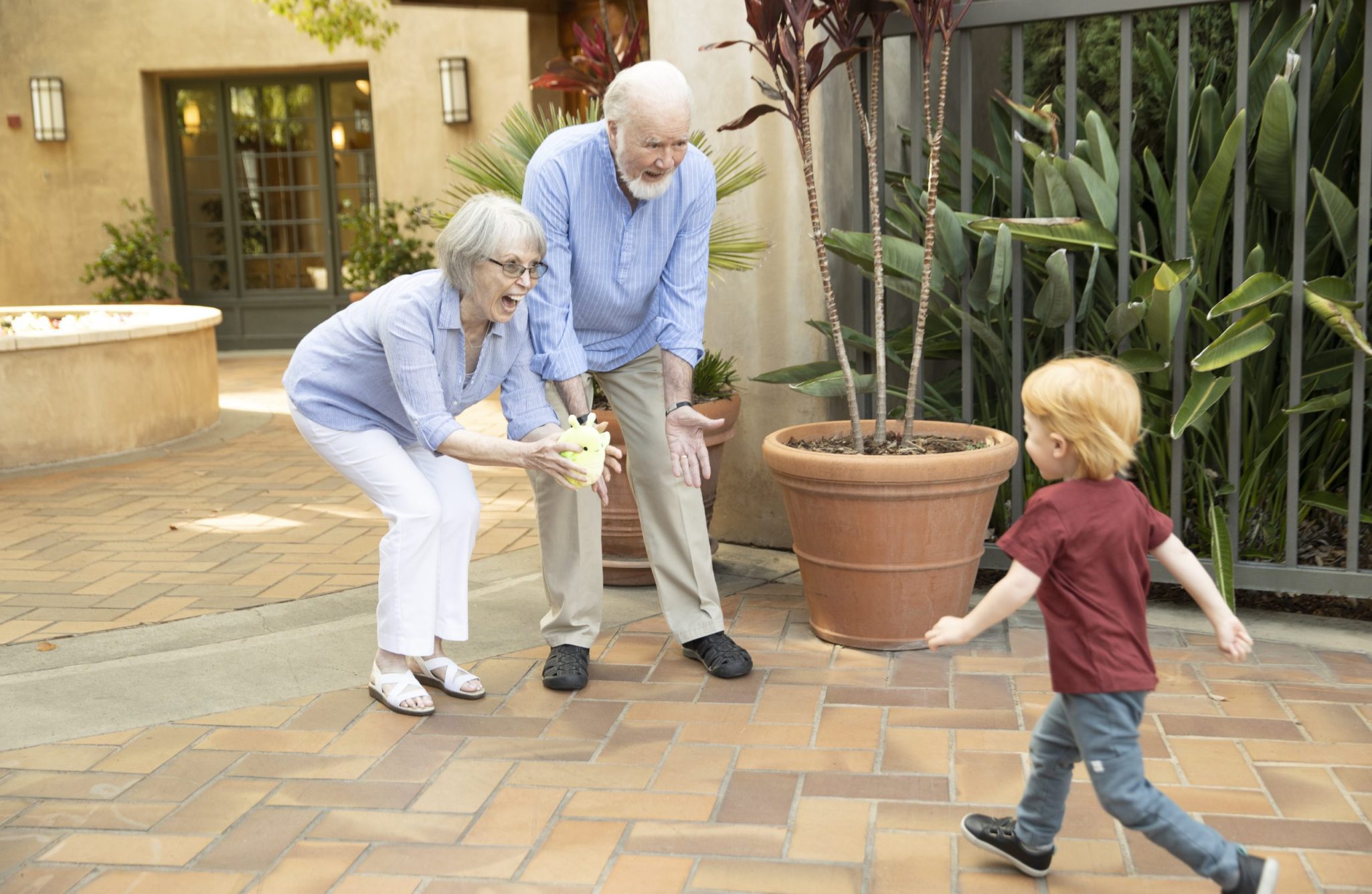 People sometimes imagine retirement communities as boring and isolating facilities, but this stereotype couldn't be further from the truth. Today's senior communities offer the ideal blend of convenience, social interactions, and wellness experiences. There are many types of communities, so you can find the perfect location and level of care for your lifestyle and needs. 
Want to spend all day hitting golf balls and all evening sampling the finest cuisine? Ready to finally perfect your watercolor paintings? Or maybe you're just hoping you can finally hand off the chores and lawn-mowing duties to someone else. The right retirement community can offer you all these features and much more. 
Choosing a retirement residence is an exciting step, but you'll need to do more than pick out a floor plan and schedule a moving truck. You also need to find the community that fits your lifestyle and meets your social, cultural, educational, and recreational needs. Plus, you'll want to ensure that there is a continuum of care in place to meet your needs if and when they change. Here are a few things to consider as you explore your retirement living options. 
What Are the Different Types of Retirement Communities?
Retirement communities are residential campuses tailored to accommodate the needs or preferences of seniors, typically aged 55 and older. There are several different types of retirement communities, but each one is designed to provide a safe, engaging environment for seniors to live and thrive in their daily lives.
Independent Living
Independent living allows you to say goodbye to your mop and lawn mower and hello to your art supplies, piano, and tennis rackets. These communities give you all the comfort and seclusion of a private residence without the many expenses and tedious chores that come with home ownership. Expert staff can handle everything from cooking meals to scheduling appointments, and you'll never have to worry about repairing broken appliances or fixtures again. 
Don't worry — you won't be bored without all those time-consuming chores. Independent living offers plenty of opportunities to fill your daily schedule with engaging experiences and social events. Many communities offer amenities designed to help seniors stay active and connect with others, such as: 
Clubhouses or recreation centers

Movie theaters

Swimming pools

Tennis courts

Golf courses

Spas and salons

Signature fitness and wellness programs 
These services and amenities make life easier and more engaging than living alone. And because they're all offered on-site, you won't have to travel far to meet up with your friends and practice your hobbies. 
If life in an independent living community sounds like a good fit for you or a loved one, you can learn more here. 
Assisted Living
Assisted living communities offer all the convenient amenities and fun experiences of independent living. They provide everything you need to take care of your emotional, physical, spiritual, and social needs. You can attend religious services in the morning, get brunch with friends, and hit the pool in the afternoon — all without leaving the community. 
These communities also offer personalized care and support if and when you request it. You can get help with basic tasks, like bathing and medication reminders. But assisted living staff also go above and beyond routine care to provide more holistic support. Do you want to spice up your workout routine? Join a Tai Chi or Zumba class and get custom fitness advice from expert trainers. Eager to revamp your diet? Meet with an on-site dietitian or consult with restaurant staff about the best dining choices. 
Choice and tailored services are at the heart of assisted living communities. The needs of seniors often fluctuate over time, so you can adjust the support you need to stay comfortable, healthy, and safe. This flexible approach gives you more freedom and time to enjoy the things that matter most, like spending time with your loved ones, perfecting a hidden talent, or trying something new. 
Learn more about assisted living here and if it might be the right option for you or your loved one. 
Nursing Homes
Nursing homes offer a higher level of support than independent and assisted living communities. These residencies typically have skilled nurses and nursing aides available 24/7. As a result, they can be the perfect fit for seniors who need frequent or specialized care. 
Nursing homes can offer a broad range of features and services, so you can choose a community that fits your needs. For example, some nursing homes have memory care units for people with Alzheimer's disease and other forms of memory loss. Other residencies are designed for couples or people with pets. 
Most residents live in nursing homes long-term, so many communities offer a variety of activities to maintain their residents' quality of life and help them build relationships with others in the community. 
Nursing homes also provide plenty of opportunities for recreation and physical activity. Many have fun on-site amenities where seniors can gather to socialize. Plus, features like community gardens and daily activities keep residents moving. 
You can learn more about nursing homes and the services they provide in this article. 
Skilled Nursing Facilities
Along with assisting residents in their day-to-day activities, skilled nursing facilities are designed to provide seniors with significant medical conditions the care and attention they require.
Each skilled nursing facility has highly trained and certified staff to monitor and manage residents' medical conditions. Skilled nursing services can include rehabilitation therapies, intravenous or intramuscular injections, intubation, catheter insertions, wound care, skin treatments, prescription medication administration, and many other medical procedures.
Staff will work with your medical provider to create specially designed care plans to identify your needs and set goals for your health and well-being. For example, you could receive nutrition counseling, physical therapy, and other customized services. 
Some skilled nursing facilities are designed for long-term care, while others are temporary residences. Seniors may stay in skilled nursing facilities until their health condition becomes more stable, then move to a nursing home or other type of senior living community.
You can learn more about skilled nursing care here.
Aging in Place
Seniors who age in place choose not to join any retirement community and remain in their own houses or communities. Some seniors stay in their family homes, while others might downsize to a smaller space or move in with a relative or friend. 
At first, aging in place may seem like an appealing option. After all, you can stay in a familiar environment and keep the same routine. And you don't have to worry about packing up all your belongings and moving them somewhere new. What's not to like? 
The reality, though, is that aging in place comes with many challenges. Seniors with mobility issues or physical limitations might have to modify their homes to be more accessible. Neighborhoods that lack adequate transportation options, parks or recreational facilities, pharmacies, grocery stores, restaurants, and other essential services might also make it more difficult to age in place. 
Most importantly, you can miss out on vital social and wellness opportunities if you age in place. Retirement communities offer numerous opportunities for daily socializing and recreational activities. You can develop lasting friendships as you attend painting lessons or go to a live music event. And fun fitness and wellness programs like group walks and dance classes help you maintain your mental and physical health. You won't have easy access to any of these benefits at home. 
Additionally, aging in place doesn't have any of the convenient services offered by retirement communities. You'll still have the never-ending burden of daily chores like cooking, washing the dishes, and doing yard work. While you may be able to handle these tasks today, you could need additional support in the future — perhaps at an unexpected time. 
Read here to learn more about aging in place and compare this option to the many advantages of retirement communities. 
What to Look for in a Retirement Community
Are you ready to start your journey to finding the perfect retirement community? You'll want to keep a few factors in mind as you search for your new home. These considerations will help you choose a residence that will promote your health, happiness, and well-being. 
CARF Certification
A retirement community may look great on the surface, but it can be hard to know if you're getting the full picture before you move in. If you choose an accredited community, you can feel confident that your new home has passed a rigorous quality assessment by a trustworthy outside organization. 
Founded in 1966, the Commission on Accreditation of Rehabilitation Facilities (CARF) is an in­ternational, independent, not-for-profit organization that accredits providers of human services focused on the areas of rehabilitation, employment, child and family, and aging services. Its mission is to promote and ensure the qual­ity and value of the services provided.
Senior living communities can earn CARF accreditation if they demonstrate that they meet strict care, quality, and service standards. CARF-accredited communities go through a painstaking auditing and review process to ensure their living spaces, management practices, staff, services, and amenities are exceptional. 
Choosing a CARF-accredited retirement community can give you and your family peace of mind, knowing that you or your loved one will receive the best lifestyle available. 
Medical Care
When choosing a retirement community, it's important to confirm that you can easily access any healthcare services you may need. Many offer on-site access to basic healthcare and rehabilitative services in the community. You can make a quick trip to the eye doctor or refill your medication on the way to your daily activities. 
Seniors often want to keep visiting trusted off-site doctors or need to schedule appointments with specialists. Communities that offer transportation to healthcare appointments make it easy for residents to get to and from the doctor. You won't have to worry about driving or calling a family member for a ride when you feel ill or need assistance after a medical procedure. 
On-site health services and off-site transportation are two of the biggest perks of choosing a retirement community. Seniors who choose to age in place need to travel to the doctor on their own or have expensive private healthcare providers come for home visits. You can avoid these inconveniences by selecting a residence with suitable healthcare services. 
Wellness
Retirement communities let you easily access numerous wellness opportunities without ever leaving the property. Many communities offer salons, spas, and fitness classes to keep you in shape and looking spiffy. Other exclusive amenities may include swimming pools, walking trails, and golf courses. You'll enjoy socializing with your family and friends without battling the crowds you'd find outside the community. 
Other wellness options include lifelong learning classes or volunteer opportunities. Have you ever wanted to learn how to make pottery or play chess? Maybe you would like to try your hand at creative writing or learn how to play the piano. Perhaps you would enjoy mentoring others in your community, tutoring students, or leading gardening classes. A retirement community allows you to dabble in a variety of wellness activities and hobbies. 
The best part? You don't have to spend time driving back and forth across town to get to the gym, the art studio, and the swimming pool. You can access all the wellness experiences you want in one convenient location, saving you time and energy.  
Recreation and Community Events
Community living provides many opportunities to enrich your life with social and intellectual events. The right setting will give you the freedom to explore a broad range of experiences and relationships. 
You can develop new friendships during yoga classes or community social gatherings. Or maybe you'll discover a new passion for art or science while taking lifelong learning classes. And community living can provide the perfect opportunity to take your existing hobbies to the next level. 
Making friends and connecting with others can have a significant impact on your general well-being. Some of the benefits of maintaining an active social life include:
Improved self-acceptance and self-confidence

Increased happiness, or better moods

Reduced chance of depression

Decreased stress

A higher sense of purpose

Better quality of life overall
Sports, games, and other physical activities are another way to engage with others and boost your quality of life. Regular exercise helps you stay healthy and strong and can delay or even prevent some of the health problems you might face as you get older. Senior living communities with tennis courts, golf courses, swimming pools, or gyms can help you stay fit and active for as long as possible. 
Not everyone takes pleasure in the same type of activities, so make sure to look for senior living communities with recreational facilities and activities that you enjoy. 
Dining
A growing number of senior living communities are replacing traditional dining rooms with a variety of restaurant-style dining, providing residents with more dining options than ever before. Residents can enjoy grab-and-go snacks, cafe-style breakfasts, fast casual lunches, or even fine dining experiences. 
Additionally, many senior living communities offer private dining rooms for special events or parties (catering from local restaurants) and on-site coffee shops for your morning pick-me-up. 
Some people associate food options in senior living communities with the bland fare offered in hospital cafeterias, but they couldn't be more wrong. With a focus on healthy eating, retirement community chefs create seasonal menus with fresh, heart-healthy, and brain-boosting ingredients.
Residents with special dietary restrictions and food allergies can rest easy knowing they will have access to quality, tasty meals that meet their nutritional requirements. Whether you're allergic to shellfish, gluten-intolerant, or vegan, chefs can create delicious and custom meal plans to accommodate your needs. 
Many retirement communities are implementing smart technologies that make it quick and easy to order meals at restaurants, get takeout, or have food delivered to your door.
Hospitality
Don't assume that senior living communities are all institutions or rest homes. Many senior living communities function as full-service, resort-style residential communities that treat every day like a vacation. 
Now more than ever, senior living communities are focused on hospitality. Manicured lawns, curated gardens, and tranquil water features can add to the community's beauty and give residents spaces to relax, interact with neighbors, and enjoy the scenery. Creating attractive, well-maintained environments for residents adds value and improves resident satisfaction and quality of life.
Some retirement communities go the extra mile and feature amenities like valet parking, concierge services, and massage services for residents and their families. Think about how the hospitality services and amenities available in a community will benefit you. Search for senior communities with amenities that make your life easier, fit your interests, and support your goals. 
Location
Some people dream of retiring to the countryside, while others see themselves in the center of a bustling city. You may want to live close to friends and family, or you might want to head south for warmer weather. Whatever your preferences, location can play a significant role in your overall satisfaction with the retirement community you choose.
Think about what matters to you, and ask yourself these questions before committing to a senior living community:
How far will I be from friends and family members?

Will I have access to medical care on-site?

Is the community close to my healthcare providers?

Are there any shopping centers nearby?

What are the dining options in the area?

Are there any parks, museums, or recreation centers around?

How far is the closest airport?

Is the area walkable, or will I need other transportation?

Is the neighborhood safe? 
Cost
The cost of senior living communities depends on various factors, including the level of care provided, the amenities available, the size of your residence, and the location's popularity. 
Think about your lifestyle preferences, the level of care you need, and the services you want or will use in a retirement community. Consider how much you're willing or able to spend and create a budget to help you understand your options. 
As living costs rise, you might be surprised at how affordable senior living communities can be. Many residents have found that moving to a retirement community costs less per month and provides countless additional benefits compared to owning a house. 
Whether you're looking for a continuing care retirement community (CCRC), which charges upfront entrance fees, or "rental" communities that offer similar services at a monthly cost, there is a senior living community for every lifestyle and budget. Spend time comparing to find a community that meets your needs without breaking the bank. 
Lifestyle
The lifestyle you want will significantly influence what kind of senior living community is right for you. The retirement community you choose should be culturally enriching, offer plenty of recreational opportunities, connect you to other residents, allow you to attend religious services, and foster your spirituality.
Whether you want to live independently or need supportive care services, every step of your journey should provide purpose and joy. Think about what matters the most to you now and what kind of life you want to live in the future.
Once you have a good idea of your lifestyle preferences, look for retirement communities that will support your goals and provide care that meets your individual needs, wishes, and long-term health requirements. The right senior living community can enhance your overall quality of life and improve your lifestyle. 
How to Know When You're Ready
Many people believe that moving into a senior living community means giving up everything they cherish, but you might be surprised to find that modern retirement communities are far from that. They're for people who want to maintain their independence, expand their horizons, and make their own decisions so they enjoy life more — not less.
Ask yourself the following questions, and think seriously about the answers. 
Do you have any health concerns?

Do you have difficulty performing your daily routines?

Are you tired of shopping, cooking, and doing household chores?

Would you like to make new friends?

Are there new activities you would like to try?
If you responded positively to most or all of those questions, you might be ready to transition to comfortable, engaging, and burden-free living in a retirement community. 
You may also consider making the move early while you're still active and healthy. Can you think of a better time to move? Most people need to make hous­ing adjustments as they grow older, and our residents tell us they're glad they decided to move while this important decision was still theirs to make. 
Plus, a retirement community can give you flexibility and security if your health needs increase. If you choose a residency with multiple levels of care, you'll likely never have to make another move. You can access a full range of flexible healthcare options that are customized to meet your personal needs — today, tomorrow, and far into the future. 
And don't forget about all the time you can save. If you think retirement living is for old people, you have not experienced an SRG community. Throw away your misconceptions about retirement living. Senior living com­munities are service-enriched residential communities, not an institution or rest home! Enjoy the advantages of an independent lifestyle within a com­fortable and burden-free environment. You'll free yourself from the daily concerns of meal planning, home repairs, and maintenance while filling your time with new friends and a variety of social, cultural, and recreational op­portunities.
Conclusion
Choosing a retirement community comes with a variety of considerations. What kind of senior living community will suit your lifestyle preferences, medical needs, and budget? Many retirement communities have special amenities, recreational facilities, dining options, and other services that can impact your choice.
Transitioning to a senior living community isn't always a straightforward decision. SRG Senior Living can connect you with resources to understand your options and make the best choice for your current and future health and lifestyle needs. 
Take the first step by scheduling a community tour and learning more about retirement living and all the benefits available. Learn more about our communities here.